ID Holders with Oval Slots, Without Metal Clips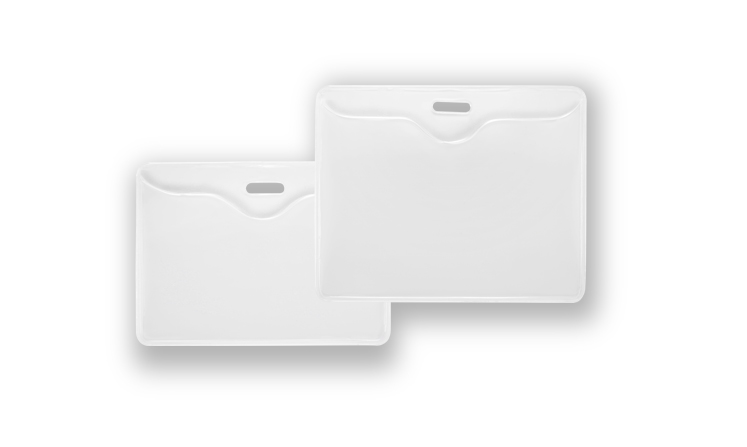 More Information
Specifications

Material

Clear PVC

Size

External dimensions: 94 x 68 mm, internal dimensions: 86 x 52 mm, paper insert with print/write-on surface: 85 x 50 mm, suitable for business cards only

Configuration

Without fasteners and paper inserts

Special offer

Order economic paper inserts and fasteners in our online shop

Min. order quantity

25 pces

Price

From € 0.21 per pce (when ordering 250 pces, not incl. VAT & cost of delivery

Fasteners

Metal Clip with Lanyard Fastener

The traditional fastener option for our ID holders – the metal clip with lanyard fastener.

Yoyo Retractable Clip J10

Standard yoyo clip in plastic with metal spring clip or metal crocodile clip. Transparent plastic strap with press stud fastener for attaching the ID/card holder.

Dimensions retracted: Ø 20 mm / thickness: 9 mm; maximum extended length: 60 cm; available in black and white. With domed 3D sticker on request.

Lanyard B10

For events, seminars, conferences, sporting and music events. The lanyards can also be printed. Available in a wide range of colours. With metal clip.

Paper Inserts

Paper Inserts for H1/S ID Holders

The ID holders are supplied with perforated A4 sheets for printing individual names. After having personalised the paper inserts with any standard printer, the perforated name cards are simply pressed from the sheet and slipped into the name badges. Additional paper inserts can be ordered around the clock from our online shop.

To help you with labelling your ID holders, we recommend our free online label creator which allows you to create and download a PDF for personalised paper inserts. Alternatively, you can use our Word templates which you can also download from our website.